One thing is for certain in eNASCAR Coca-Cola iRacing Series competition when the playoffs roll around: no matter what happens, never count out Keegan Leahy.
Sure, the Halifax native's bid to return to the Championship 4 in 2021 took a hit—literally—two weeks ago, when the defending winner at Darlington Raceway instead found himself at the bottom of the playoff grid with a super-sized Darlington stripe after a late-race restart gone awry. But the beauty of the eNASCAR playoffs is that they're win and you're into the next round, and that's exactly what Leahy did on Tuesday at Bristol Motor Speedway, withstanding late pressure and leading the entire 250-lap affair for his second win of the season.
"I've never experienced this before, but it really does feel like a dream," said Leahy. "I did not expect this this morning, or even in the last 10 laps. This takes me back—my first real big race was at Bristol, and that was the best battle of my career up until now. It felt just like that."
The prevailing expectation for the night was that Bristol would be a caution-heavy affair, like most short tracks have been in the series in recent years. But despite the tight quarters and playoff pressure, the field reached triple-digit laps before the first yellow flag flew, and there wasn't another immediate caution right after it. In fact, there were only three cautions all night.
The problem for Leahy was that the other two each came with under 20 laps to go, giving the hard-charging Logan Clampitt an opportunity to make a move. Leahy had been running the top for much of the race, asking lapped cars to yield the lane whenever possible, while Clampitt attempted to run him down on the bottom. The restarts could have been the great equalizer, but Leahy did exactly what he needed to on both, pouncing out to the lead yet again on the final green flag and putting the race away.
Each of the top five finishers were race winners this year; Homestead winner Ryan Luza was third in his bid to defend last year's Bristol victory, with two-time road course winner Mitchell deJong fourth and Charlotte winner Ray Alfalla completing the top five. After already securing his Championship 4 spot with a win at Darlington, Bobby Zalenski finished seventh. It was a much different story for many of the other playoff drivers, though, with Bob Bryant and Michael Conti affected by incidents and Graham Bowlin needing to fight his way back from a late-race spin to finish eighth.
eNASCAR Coca-Cola iRacing Series results from Bristol Motor Speedway were as follows: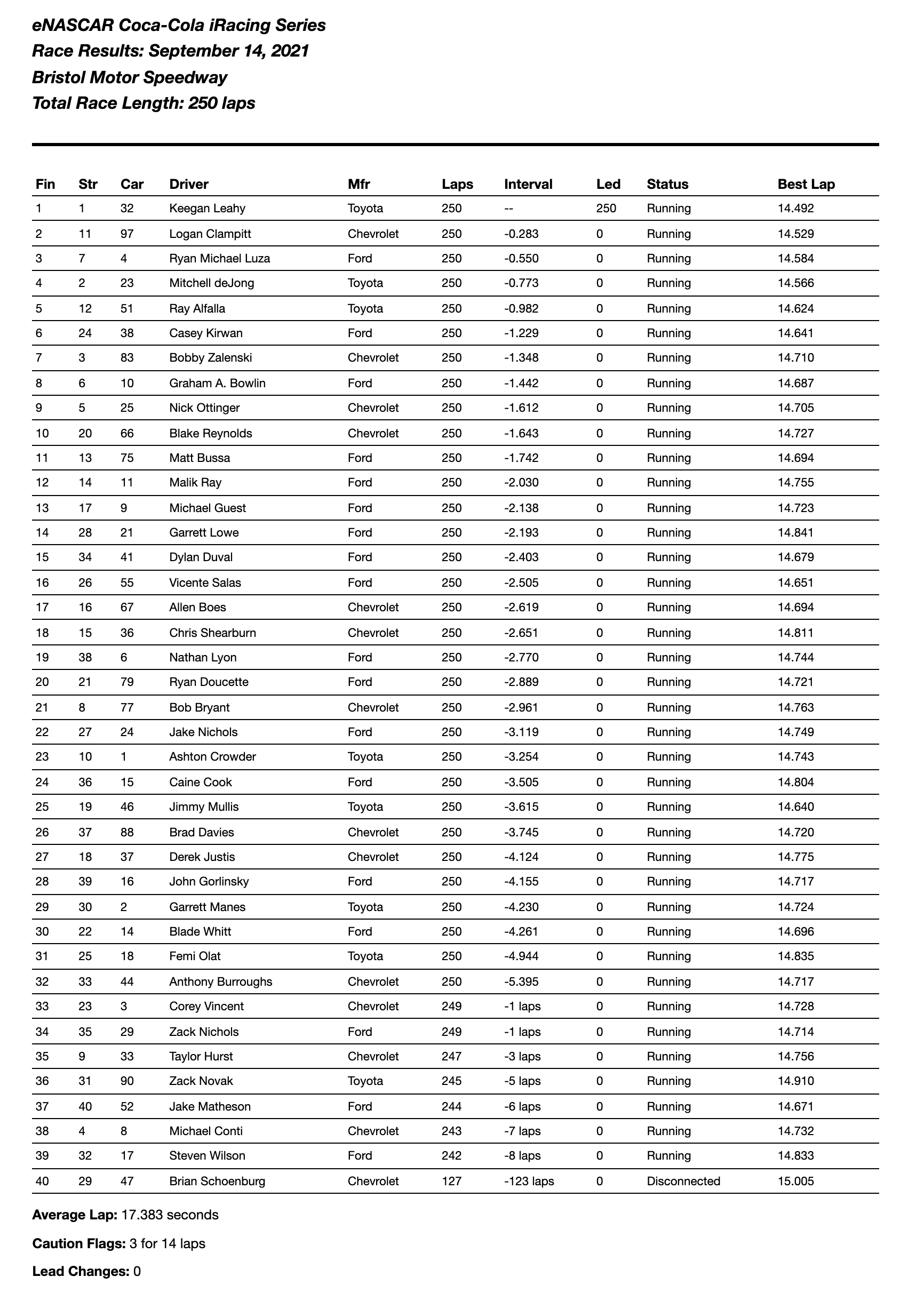 The eNASCAR Coca-Cola iRacing Series playoff grid is as follows:
Bobby Zalenski, 1 win
Keegan Leahy, 1 win
Mitchell deJong, in on points
Logan Clampitt, in on points
Matt Bussa, -8 to cut line
Graham Bowlin, -11
Vicente Salas, -15
Jimmy Mullis, -20
Bob Bryant, -27
Michael Conti, -37
The eNASCAR Coca-Cola iRacing Series playoffs continue in two weeks' time at Talladega Superspeedway, the last chance for any other playoff driver to join Zalenski and Leahy in the Championship 4 with a win; any other open spots will be determined by points. As always, coverage begins with iRacing Countdown to Green at 8:30PM ET, with the racing action picking up at 9PM ET on eNASCAR.com/live and iRacing's social media channels. Evan Posocco, Steve Letarte, and Parker Kligerman will be on the call for the remainder of the 2021 season. For more information on iRacing and for special offers, visit www.iRacing.com.
Images via Justin Melillo
---
You may also like…
---